Fear of doctors, hospitals, and surgery (and the associated bills) is very common in today's medical landscape. In fact, many people put off regular checkups and – unfortunately – wait until a health problem is severe to seek medical attention. And while this fear of both doctors and medical costs is understandable, the sooner you address a problem, the easier it is to treat.
When it comes to foot and ankle issues, waiting to address pain and discomfort can cause significant negative impacts on your day-to-day routine and quality of life. Thankfully, there are a host of non-surgical foot and ankle treatments that can help relieve pain, address the underlying problems, and get you back on your feet feeling good as new.
Laser Treatment for Toenail Fungus
Toenail fungus is a common affliction that affects up to 14% of adults in the United States at any given time. Officially called onychomycosis, a toenail fungal infection typically occurs when microscopic fungi infect a toenail through a small crack, cut, or trauma to the nail or surrounding skin. There are three main types of toenail fungus and toenail fungus presents in a variety of ways – including white spots on the surface of the nail, changes in color, dryness or brittleness, and thickening of the nail.
While many people attempt to treat toenail fungus on their own with home remedies, fungal infections require over-the-counter or prescription medication to clear. On occasion, persistent toenail fungus may not respond to antifungal creams and prescription medications. If you have a toenail infection that doesn't clear up with standard treatments, your podiatrist may recommend toenail fungus laser treatment.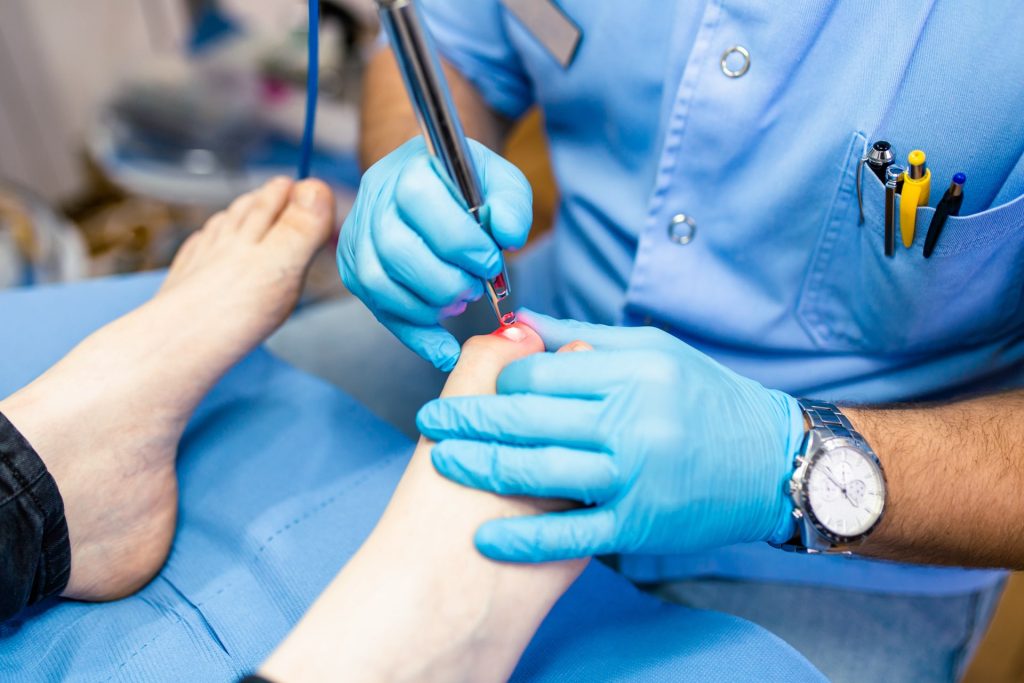 What is laser treatment for toenail fungus?
Laser treatment of toenail fungus has been an FDA-approved treatment since 2010 and is often used as a last line of defense for recurrent infections. Laser nail therapy works on toenail fungus by targeting the infected nail layers and destroying the cellular materials responsible for fungus growth and survival. Before getting the procedure, it's important to talk to your podiatrist about the pros and cons of laser treatment for toenail fungus to ensure it's the right course of treatment for you.
The course of treatment will depend on your individual infection; however, many laser nail therapy treatments require at least two sessions at least five to six weeks apart and results can take up to two months to see. The treatments themselves are painless, though some people report feeling warmth in the affected area and there can be slight swelling and redness of the treated skin around the nail for 24 to 72 hours. Like with any other treatment for toenail fungus, laser nail therapy isn't a cure-all – even after a fungal infection has been completely eradicated, it can come back if the nail isn't properly cared for post-treatment. Your podiatrist will give you post-care instructions and may recommend any necessary lifestyle changes to help prevent reinfection.
Other Laser Therapy Applications for the Feet
Laser therapy treatments can be helpful for many foot conditions, not just fungal nail infections. Laser therapy can be used to treat ingrown toenails, ligament tears, and plantar fasciitis and can help reduce joint stiffness and muscle strains, improve blood circulation, and much more.
Regenerative Injection Therapy for Foot and Ankle Conditions
Also known as stem cell therapy and platelet rich plasma (PRP) treatment, regenerative cell therapy uses stem cells to supercharge your body's own natural healing mechanisms to help repair damaged or diseased tissue. Stem cells are the building blocks of the human body. Often called "master cells," these special cells have the ability to develop into many different cell types (blood cells, organ cells, bone cells, brain cells) and – when harnessed appropriately – can help repair and regenerate damaged or diseased cells in the foot and ankle.
Stem Cell Therapy for Arthritis
Arthritis in the foot and ankle can cause significant pain and can progress into a debilitating condition even with traditional treatments and physical therapy. Regenerative therapy is a safe, targeted option to relieve short-term inflammatory pain caused by foot arthritis and can help encourage long-term regenerative healing.
Regenerative Therapies for Foot and Ankle Conditions
Podiatrists and foot and ankle specialists also use regenerative therapies – including amniotic membrane and umbilical cord injections and grafts, PRP, and stem cell therapy – for a variety of common foot and ankle conditions and injuries. Regenerative injection therapy can help speed up the recovery process for sports injuries, ligament sprains, tendon tears, and Achilles tendinosis, as well as help treat common foot ailments like bunions and plantar fasciitis.
If you're suffering from a foot or ankle condition that is keeping you on the sidelines of life, one of these non-surgical treatment options may be what you need to get back to good health and live your life pain-free. Don't wait – contact a local podiatrist or foot and ankle specialist today to get on the road to recovery.