No one wants to think about toenail fungus. It can be unsightly and painful and lead to other serious health conditions. Unfortunately, roughly half of all Americans will experience a fungal infection in at least one toenail by the time they're 70. The good news is that toenail fungus is fairly easy to treat if you know what to look for and catch it early.
Types of Toenail Fungus
Officially called onychomycosis (or tinea unguium), toenail fungus is a common fungal infection that occurs when microscopic fungi enter the nail through a small cut, crack, or trauma. If left untreated, this infection can spread to the surrounding toenails, skin, or even the fingernails. There are three main types of toenail fungus that are caused by different infecting agents.
Subungual Onychomycosis
Caused by dermatophytes (the same class of fungus as athlete's foot), this infection is called distal subungual onychomycosis when it affects the skin under the nail and proximal subungual onychomycosis when it starts at the base of the nail. There are nearly 40 different species of dermatophytes that can cause subungual onychomycosis.
White Superficial Onychomycosis
Aptly named, this type of toenail fungus first appears as white spots and only occurs in the top layer of the toenail. Caused by fusarium and acremonium (fungi known as hyphomycetes), this type of toenail infection is the easiest to treat; however, it can spread across the nail quickly. There are approximately 1,000 different species of fusarium and 100 species of acremonium that can cause white superficial onychomycosis.
Candida Onychomycosis
Candida onychomycosis is caused by candida, a type of yeast. Though this type of infection is less common in nails, it is the main cause of human fungal infections overall as it affects the mucus membranes and GI tract. There are nearly 60 different species of candida.
What does toenail fungus look like?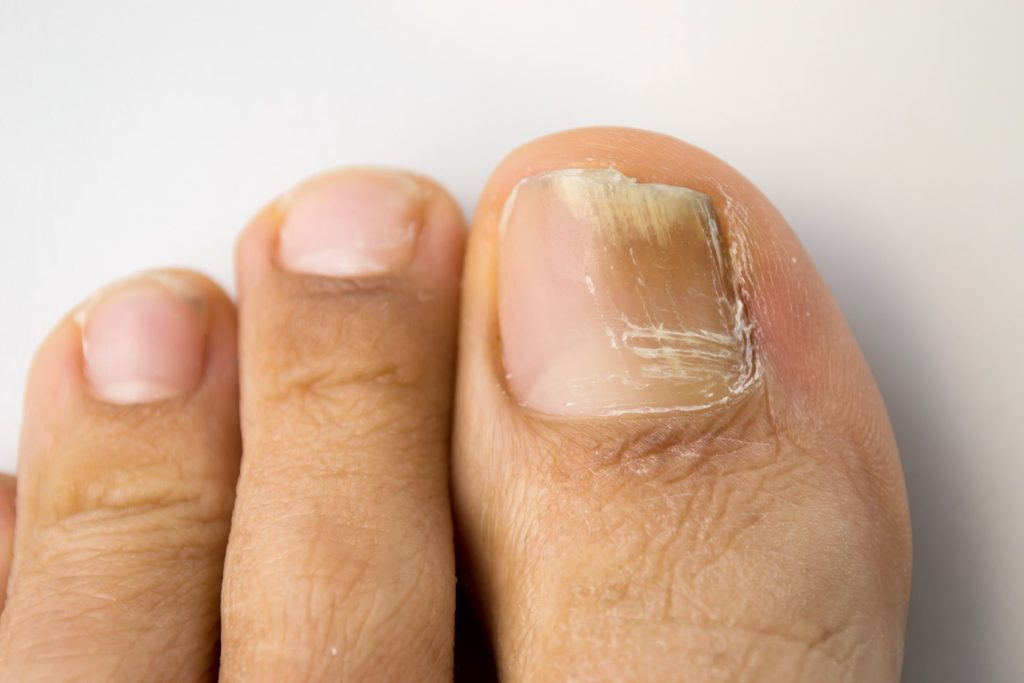 Toenail fungus can present in a number of ways, which is why it is important to see a podiatrist as soon as you notice any significant changes to your toenails. Oftentimes, early stage toenail fungus is painless, so knowing what to look for can help you catch it early.
Toenail fungus may present in the following ways:
White spots on the surface of your toenail
Toenail changes color (white, yellow, or brown)
Toenail looks chalky or cloudy in spots
Toenail is cracked or broken
Toenail becomes dry or brittle
Toenail thickens or looks misshapen
Toenail pulls away from your nail bed, leaving a gap between your nail and the skin beneath (called onycholysis)
Is toenail fungus contagious?
Toenail fungus can be contagious; however, fungal infections require a specific environment to lock on and spread. Physical contact with a toenail fungus and/or touching items that have been in contact with the fungus greatly increases the chance of spreading the infection. For this reason, you should not wear old shoes and always wear clean socks to minimize your chance of reinfection.
People with weakened immune systems are also more susceptible to contracting toenail fungus and having it spread to other toenails and fingernails. You can also get toenail fungus from touching an infected surface, so it's important to wash your hands regularly.
Stages of Toenail Fungus
While not clearly delineated, there are three general stages of toenail fungus.
Early Stage Toenail Fungus
Toenail fungal infections often first develop at the front or side edge of the nail, where it's easier for fungus to enter the nail. This usually presents as a white or yellow-brown spot just under the nail or a subtle change in texture, both of which are easy to miss or dismiss. Toenail fungus is easiest to treat at this early stage.
Moderate Stage Toenail Fungus
At this stage, the nail may thicken enough to hurt, especially when pressure is placed on the toenail by shoes or various activities. The fungus will continue to spread (possibly to other nails) and worsen if left untreated.
Later Stage Toenail Fungus
In the final stage, the infected nail (or nails) will turn very thick and brittle and may begin to detach from the nail bed. In severe cases, the fungal infection can spread to the surrounding skin and nails.
Toenail Fungus Treatment & How to Tell if Toenail Fungus is Dying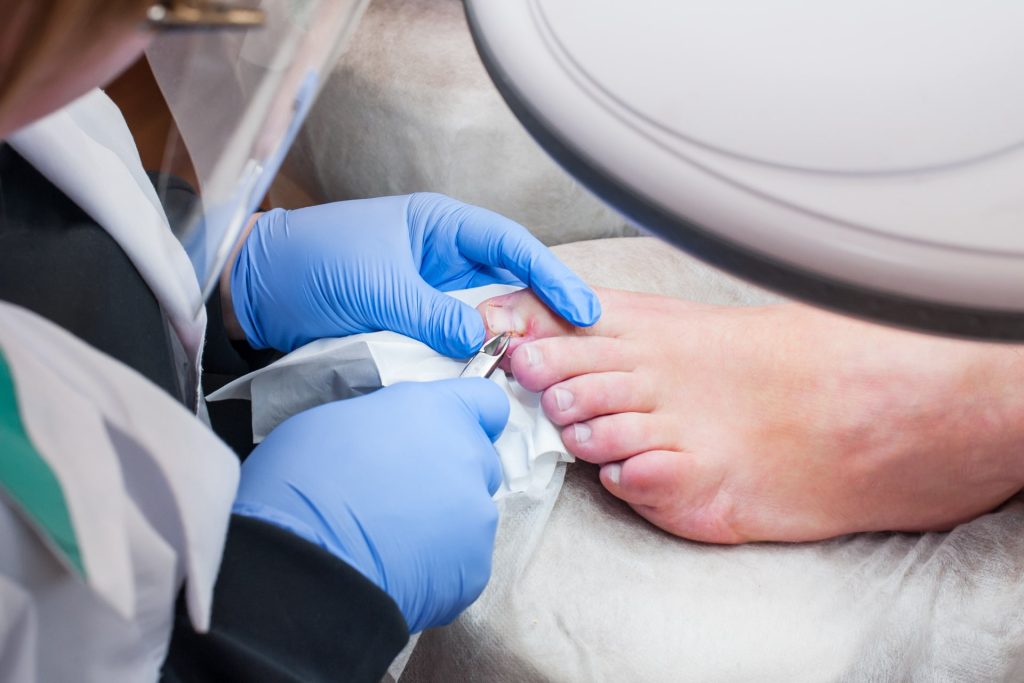 Unfortunately, there are no home remedies for toenail fungus and fungal infections require either over-the-counter or prescribed medications to clear. Thankfully, your local podiatrist can recommend an antifungal cream from your local drug store or prescribe a medication that will clear the infection quickly.
You'll know that the medication is working and the toenail fungus is dying when your toenail changes back to its natural color, decreases in thickness, shows healthy new growth, and you see a clear delineation between the infected part of the toenail and your new nail growth.
If you think you may have a toenail infection, don't wait to see a local podiatrist for treatment. Early diagnosis and treatment are the easiest and fastest way to clear up a fungal infection.