Foot pain is a common ailment that affects people of all ages and health backgrounds. Whether caused by injury, overuse, or a medical condition, foot pain can prevent you from going about everyday activities and negatively impact your work, activities, and overall quality of life. If you've suffered a foot injury or are experiencing foot pain that doesn't resolve itself with basic R.I.C.E. (rest, ice, compression, elevation) treatments, it's time to see a foot doctor.
Many people experiencing foot pain for the first time are unsure of which type of doctor to see for their diagnosis and treatment. When it comes to foot and ankle health, there are two types of specialists who treat patients with foot pain: podiatrists and orthopedists (namely, orthopedic foot and ankle surgeons). While both specialties focus on foot and ankle conditions, there are key differences in the doctors' education and training, as well as the types of injuries they treat.
Orthopedist vs Podiatrist Education and Training
Requirements to Become an Orthopedic Foot and Ankle Surgeon
Orthopedic surgeons are medical doctors who specialize in the diagnosis, treatment, and prevention of conditions affecting the musculoskeletal system. Orthopedic foot and ankle specialists are surgeons who undergo this foundational education with an additional focus on the foot and ankle. Foot and ankle surgeons typically complete a four-year medical degree followed by a five-year orthopedic residency, with an additional one to two years of fellowship training in foot and ankle surgery. This additional training focuses specifically on advanced techniques for treating foot and ankle conditions, including complex reconstructive surgery.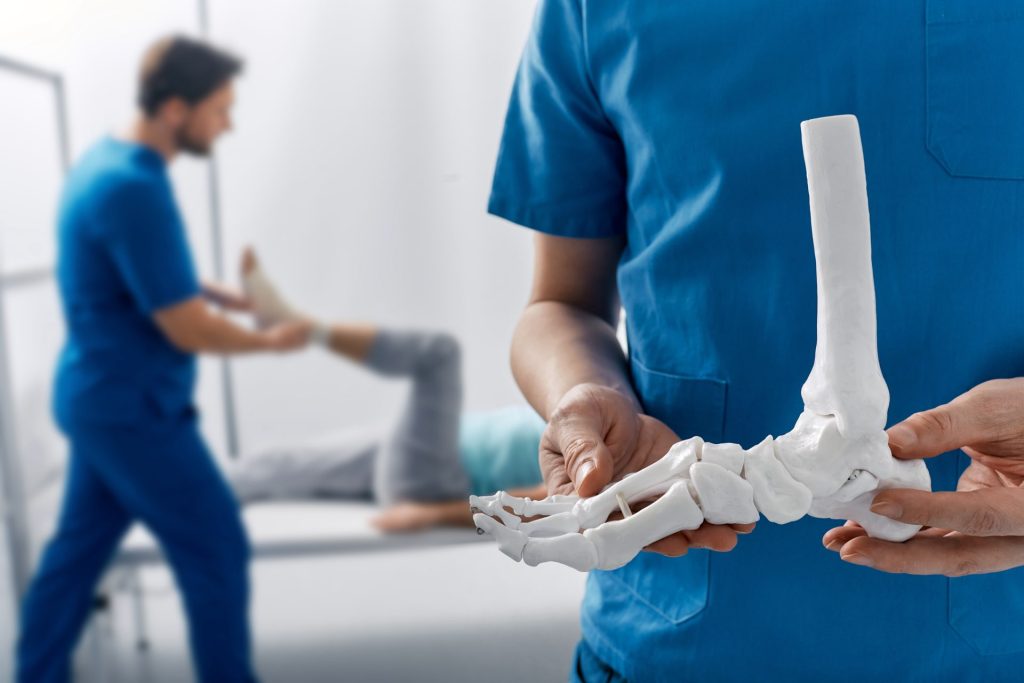 Once they've completed all education and training requirements, orthopedic surgeons must pass a board certification exam and fulfill state licensing requirements, which include yearly continuing medical education to stay up-to-date on advances in the field.
Requirements to Become a Podiatrist
Podiatrists are also doctors who specialize in treating conditions of the foot and ankle. Podiatrists are required to undergo extensive training to complete a four-year Doctor of Podiatric Medicine (DPM) program at a podiatric medical school. After completing the program, podiatrists must also complete a residency in podiatric medicine and surgery, which lasts for two to three years. During this residency, podiatrists gain hands-on experience in treating a wide range of foot and ankle conditions. Additionally, many podiatrists practice in subspecialties such as diabetic foot care, pediatrics, dermatology, radiology, sports medicine, and surgery.
Treating Foot and Ankle Conditions
While podiatrists and orthopedists have different educational backgrounds and training, they share similarities in their approach to treating foot and ankle conditions. Both types of doctors perform thorough evaluations and diagnostic tests to determine the underlying cause of a patient's symptoms and many look first to non-surgical interventions – such as physical therapy and medication – to alleviate pain and improve mobility before considering more invasive procedures.
One key difference between the two specialties is that orthopedic foot and ankle surgeons have a broader scope of practice, as they are trained to treat conditions affecting the entire musculoskeletal system. Additionally, they may work closely with other medical specialists, such as rheumatologists and neurologists, to provide comprehensive care for patients with complex conditions.
Another key difference is in the types of injuries and conditions each type of foot and ankle specialist treats.
Podiatrists vs Orthopedic Surgeons: Types of Injuries Treated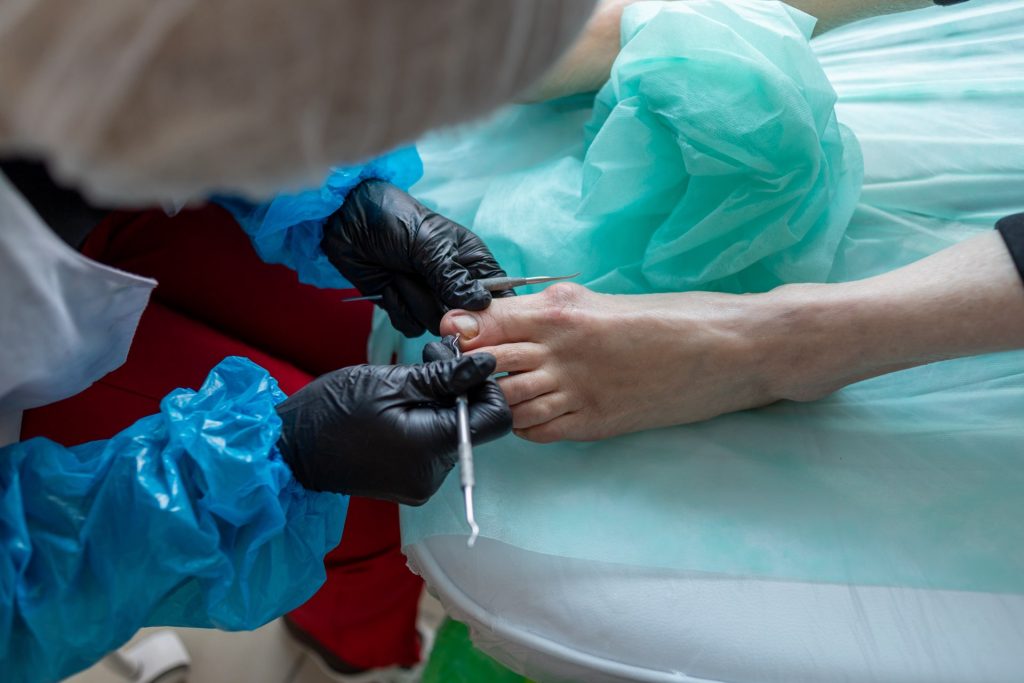 Podiatrists and orthopedic foot and ankle surgeons treat a wide range of foot and ankle conditions, including injuries and illnesses that affect bones, muscles, tendons, and ligaments. However, there are some differences in the types of injuries they typically treat.
Podiatrists often treat common conditions such as plantar fasciitis, heel spurs, bunions, sprains, and fractures. Podiatrists also treat nerve conditions (such as Morton's neuroma and peripheral neuropathy), skin and nail conditions (including nail and foot fungus ingrown toenails and plantar warts), and arthritic conditions (like osteoarthritis, gout, and rheumatoid arthritis).
They also provide diabetic foot care, as patients with diabetes are at increased risk for developing serious foot problems. Additionally, podiatrists provide laser treatments and regenerative therapy, as well as custom orthotics for patients with foot deformities and arthritis.
Orthopedic foot and ankle surgeons, on the other hand, specialize in treating more complex conditions such as serious fractures and breaks, dislocations, and ligament and tendon tears. Orthopedic surgeons also operate on more severe cases of common foot and ankle conditions, as well as complex deformities and advanced arthritis.
How to Choose Between a Podiatrist and Orthopedic Foot and Ankle Surgeon
When deciding which type of foot and ankle specialist to see for your foot pain, it's important to consider both the nature of your pain, any current medical conditions, and your overall medical history. If you have a chronic disease that can affect your foot health, such as diabetes or arthritis, a podiatrist may be the best specialist for your situation. If you've suffered an acute injury or have a chronic foot or ankle condition that has become severe, an orthopedic surgeon well-versed in complex surgical procedures may be the right choice.
Ultimately, the choice between a podiatrist and an orthopedic specialist depends on your specific needs and medical history. Both types of doctors are highly trained in foot and ankle conditions and treatments. If you're experiencing foot pain and don't know which type of doctor is the best fit for you, please contact a local podiatrist to help you determine the best course of action for your situation.