If you have diabetes – Type I or Type II – you have a lot to manage on any given day to stay healthy. Between monitoring your blood sugar, taking medications, going to doctor appointments, and finding time to exercise or be physically active, it's easy to overlook one very important daily task: diabetic foot care. Maintaining healthy feet is important to everyone; without healthy feet, we literally have nothing to stand on. Daily foot care for diabetics, however, is critical in properly managing the disease and keeping diabetic foot pain and more serious complications at bay.
Diabetic Foot Care
According to the Diabetes Research Institute, 11.3% of the U.S. population (or 37.3 million people) have diabetes and approximately 8.5 million more people have diabetes but are yet to be diagnosed. That is to say, diabetes is endemic in our society and this chronic condition is only growing in its reach. One positive side effect of this is knowing you're not alone and there are tons of resources available to help you manage your disease.
One such resource is a trusted podiatrist. If you have diabetes, it's extremely important to take good care of your feet, as they are especially vulnerable to a variety of conditions that can lead to serious complications. Seeing a podiatrist on a regular basis is one of the best things you can do to maintain your foot health and prevent serious complications.
What does diabetic foot pain feel like?
Diabetic foot pain often feels very different from pain caused by other foot ailments, such as plantar fasciitis, arthritis, or tendonitis. This is because diabetes can cause nerve damage, which presents as tingling, burning, numbness, and/or sharp, shooting pain in one or both feet. Also called neuropathy, diabetic nerve damage can lead to further complications.
Diabetic Neuropathy Symptoms and Treatment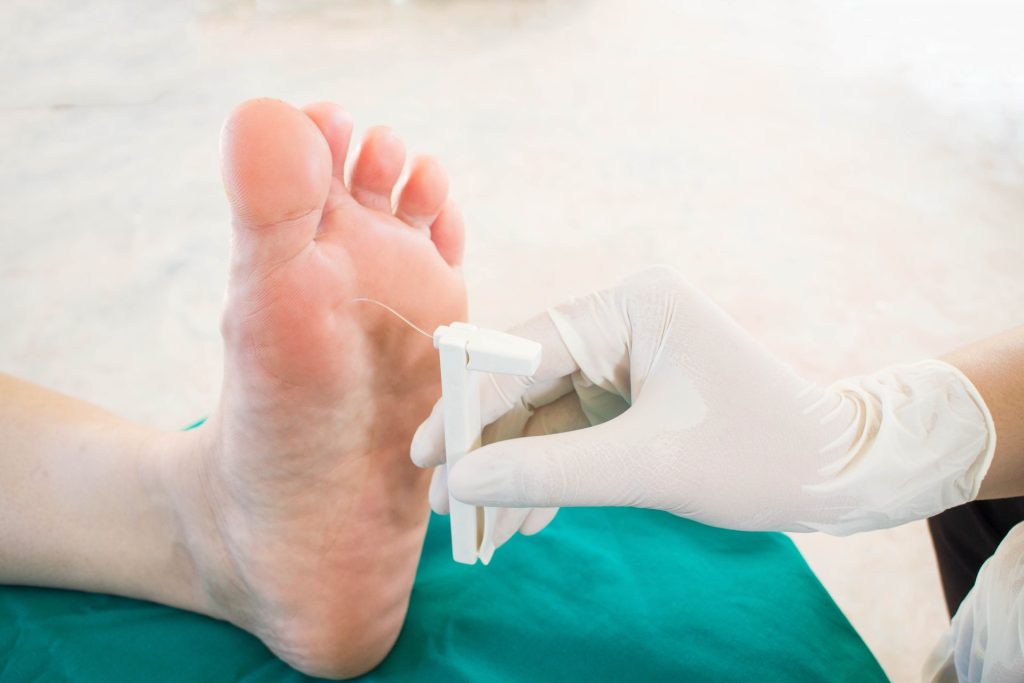 Diabetic neuropathy affects up to 50% of people with diabetes and can cause a range of symptoms, from tingling and burning sensations to complete loss of sensation in your feet. So, even though the onset of diabetic neuropathy can cause pain, neuropathy can lessen your ability to feel cold, heat, and pain in your feet as it progresses. Even the smallest cut, blister, or skin infection can lead to serious complications like diabetic foot infections and foot ulcers when left unnoticed and untreated. Diabetes-related nerve damage can even cause changes in the shape of your feet and toes, making regular shoes uncomfortable and a possible catalyst for other diabetic foot conditions.
That is why it's important to see a podiatrist immediately if you are diabetic and experience any diabetic neuropathy symptoms. Treatments for neuropathy include medications to manage pain and prevent further nerve damage, as well as lifestyle changes such as controlling blood sugar levels and quitting smoking.
Diabetic Foot Infections
Due to poor circulation and neuropathy, people with diabetes are more susceptible to infections in their feet and less able to fight infection. Diabetic foot infections are classified as mild, moderate, or severe, and if left untreated, any foot infection can spread and lead to serious health problems for someone with diabetes. Foot infections are some of the most serious complications of diabetes and can lead to increased hospitalization and risk of lower extremity amputation.
Diabetic Foot Ulcer: Stages & Treatment
Occurring in approximately 15% of diabetes patients, diabetic foot ulcers are open sores that can develop on the bottom of the foot due to a whole host of diabetes-related factors, such as poor circulation, neuropathy, foot deformities, related pressure from shoes, trauma, and even duration of diabetes. There are four main diabetic foot ulcer "stages" (called grades):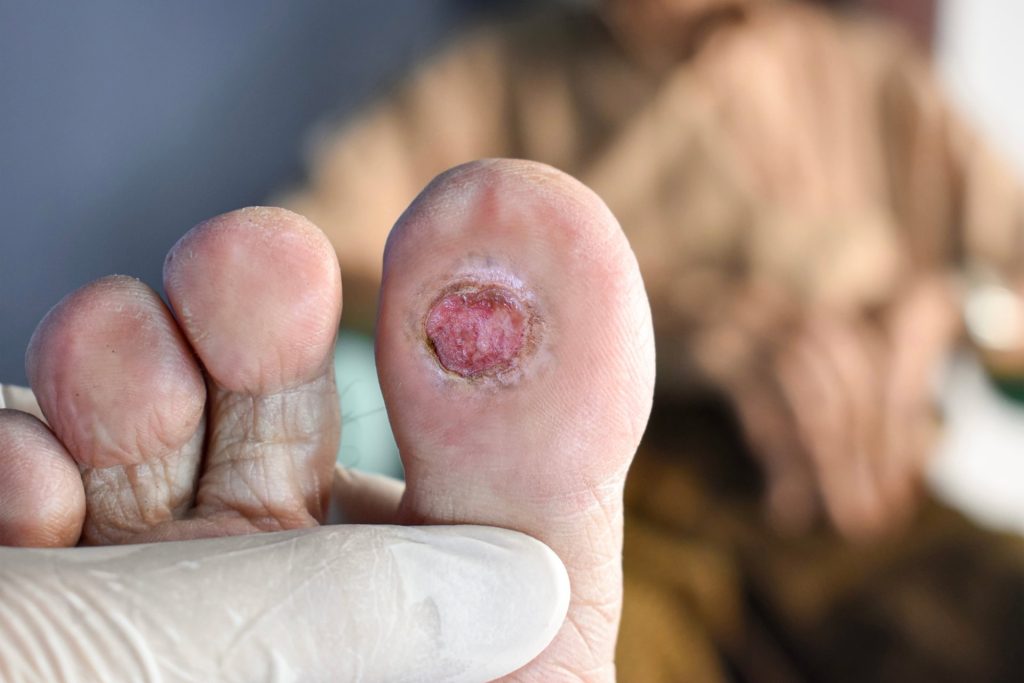 Grade 1: Also called an "early stage diabetic foot ulcer," a grade 1 ulcer is superficial, meaning the skin is broken but the wound is still shallow
Grade 2: The ulcer is a deep wound (past the upper layers of skin)
Grade 3: Part of one or more bones in the foot is visible due to the ulcer
Grade 4: The forefront (top) of the foot has gangrene
Symptoms of diabetic foot ulcers include redness, swelling, and drainage from the affected area. Treatment for foot ulcers may include antibiotics to prevent infection, wound dressings to promote healing, and surgical debridement to remove dead tissue (gangrene).
Diabetic Foot Gangrene
Gangrene is a serious condition in which the tissue in the foot dies due to a lack of blood flow or an untreated bacterial infection. People with diabetes are at an increased risk for gangrene, particularly if an injury or infection goes unnoticed due to diabetic neuropathy. Gangrene can present as changes in skin color, blisters, swelling, foul-smelling discharge from a sore or foot ulcer, and sudden, intense pain followed by numbness. Gangrene can be life-threatening and may require amputation if not caught and treated by a podiatrist or other foot specialist.
Diabetic Charcot Foot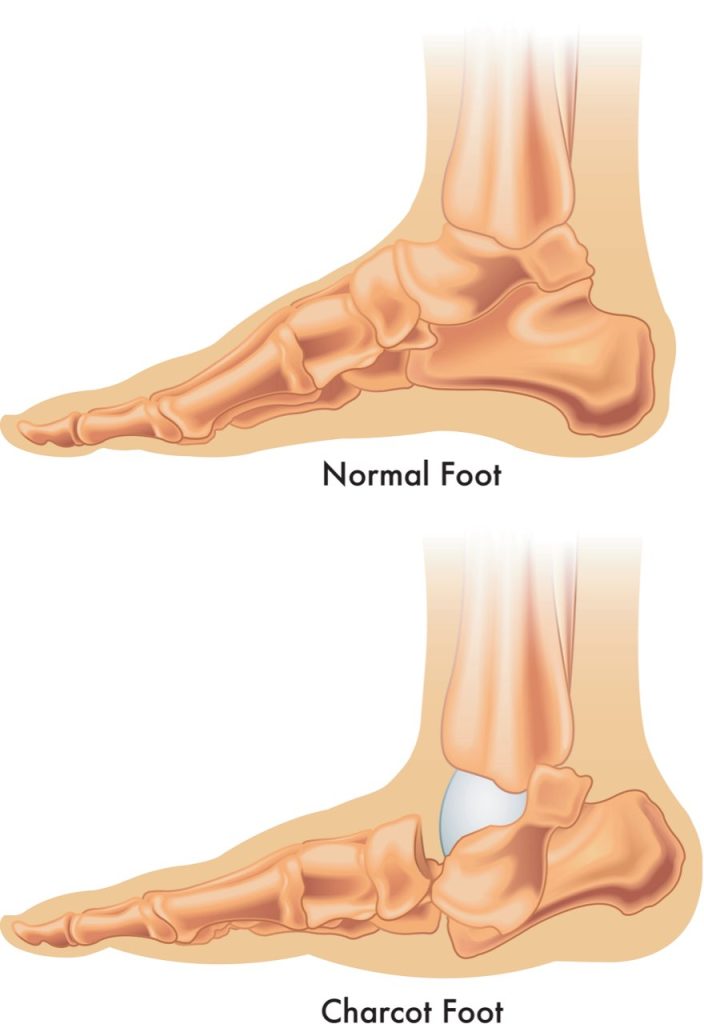 Charcot foot is a rare but serious complication of neuropathy that particularly affects diabetics by weakening the bones, joints, and soft tissues of the foot and ankle. As the bones become weaker, they are more likely to break and the joints in the foot and ankle are more prone to dislocate. If Charcot foot is not caught and treated early, it can lead to deformities and further complications.
Can diabetic foot Charcot be reversed?
The sooner Charcot foot is diagnosed and treated with non-surgical interventions, the better the chance of preventing permanent damage. Casts, special boots, and physical therapy can all help prevent further deformities from developing and allow bones to heal correctly. If these interventions are unsuccessful or if caught at a later stage, surgical interventions may be needed to correct Charcot-related deformities. So, while diabetic foot Charcot cannot be "reversed" – so to speak – treatment can help diabetics with Charcot foot regain regular form and function.
The Importance of Regular Diabetic Foot Care from a Podiatrist
It's important for people with diabetes to take good care of their feet and to seek medical attention if they experience any foot problems, no matter how small they may seem. Podiatrists are foot and ankle specialists who are trained to diagnose and treat a wide range of conditions, including those that are specific to people with diabetes. They can provide regular foot exams, help manage nerve damage and circulation issues, and provide guidance on footwear and other lifestyle changes that can help prevent foot problems. They can also provide treatment for conditions such as diabetic foot ulcers and infections, and work with other medical professionals to provide comprehensive care for people with diabetes.
If you have diabetes, taking care of your feet is essential to maintaining your overall health and well-being. Don't wait until you have symptoms or complications – schedule a visit with a local podiatrist today to take the first step towards maintaining your foot health.