Plantar warts, also known as verruca plantaris, are a common viral infection that typically affects the skin on the weight-bearing areas of the feet, most often on the soles. These warts are caused by a few different strains of the human papillomavirus (HPV) and – while benign – they can be an unfortunate source of pain and discomfort.
What are plantar warts?
Plantar warts are non-cancerous skin growths that affect between 10% and 20% of the population at any given time. They result from specific HPV infections, most commonly HPV types 1, 2, and 4. HPV enters the body through small cuts, abrasions, or breaks in the skin on the feet and infects the top layer of the skin, causing warts to form.
What do plantar warts look like?
Plantar warts often appear as small, grainy growths on, around, or between your toes, on the balls of your feet, or on your heels. They can be painful and may cause discomfort while walking or standing.
Common symptoms include:
Thickened, calloused skin over the wart that may look like cauliflower
Dark pink, brown, purple, gray or yellow discoloration
Tiny dark brown or black dots on the surface of the wart (which are small, clotted blood vessels)
Wart growth may be surrounded or covered by a hard, thick layer of skin (callus)
Plantar warts typically start small and grow slowly; however, they do grow deep into the skin and the associated discomfort can affect how you walk or stand. Over time, changes in stance and gait can cause muscle imbalances, as well as pain and stress in other areas of the foot and ankle.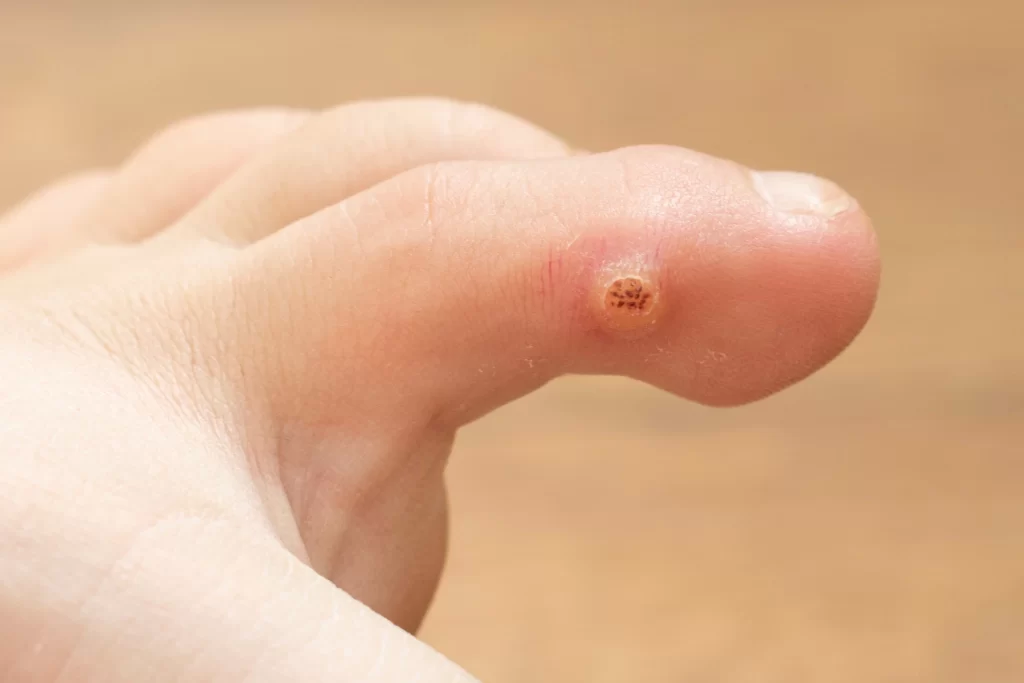 Types of Plantar Warts
There are two different types of plantar warts, solitary and mosaic warts.
A solitary plantar wart is a single wart that tends to increase in size over time and may spread in the form of additional warts close by.
Mosaic warts are a cluster of several small solitary warts that grow together in a single spot on the foot. These types of plantar warts are often more difficult to treat than solitary warts.
How are plantar warts contracted?
Plantar warts are typically contracted through direct contact with the HPV virus. There are three common ways people get plantar warts.
Direct contact: The primary mode of transmission is direct skin-to-skin contact.
Self-inoculation: It's also possible to spread the virus from one part of your own body to another. If you have a plantar wart, avoid touching it and then touching other parts of your body, as this can lead to the development of new warts.
Contaminated objects: HPV can survive on surfaces for some time, meaning you can contract it from walking barefoot in public places like locker rooms, swimming pools, or communal showers. HPV thrives in warm, moist environments, making these areas particularly conducive for transmission. Sharing towels, shoes, or other personal items with an infected person can also increase the risk of contracting the virus.
Are plantar warts contagious by touch?
Yes, as mentioned above, plantar warts can be contagious by touch. Direct skin-to-skin contact with an infected area or object can transmit the virus, however, the HPV strains that cause plantar warts aren't highly contagious. Additionally, every person's immune system will respond differently to HPV and some people who come into contact with the virus never develop any symptoms or warts. To prevent spreading the virus, avoid touching your warts and take steps to protect your feet in public places.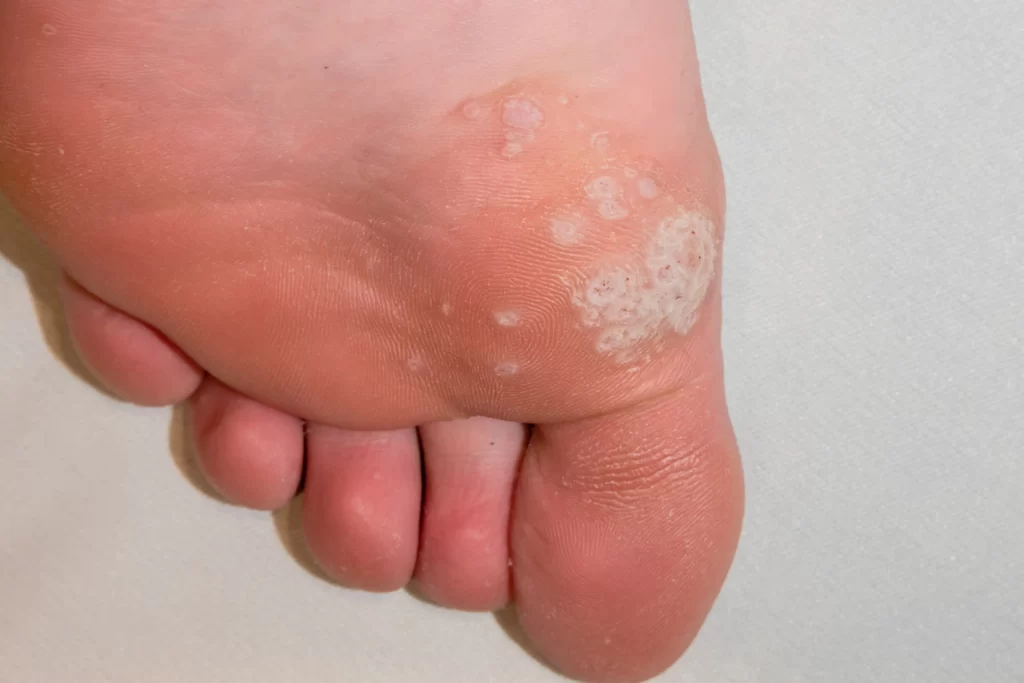 Risk Factors
Several factors can increase the risk of developing plantar warts:
Age: Children and teenagers are more susceptible to plantar warts due to their developing immune systems and less established resistance to the virus.
Weakened immune system: Individuals with weakened immune systems, like those with HIV/AIDS or undergoing immunosuppressive treatments, are more susceptible to HPV infections.
Previous wart infections: If you've had plantar warts before, you may be more prone to developing new ones.
Walking barefoot in public places: Frequenting public areas where the virus is more likely to be present, such as swimming pools, locker rooms, and communal showers, can increase the risk.
Will a plantar wart go away on its own?
In some cases, plantar warts can resolve on their own without treatment. However, plantar warts can last up to several years in adults and anywhere from a few months to two years in children and adolescents if left untreated. Also, because they can be painful and contagious, many people opt for treatment to expedite the healing process and reduce discomfort.
Home Remedies & Plantar Wart Removal
Before seeking treatment from a podiatrist, you may try one of the following plantar wart home treatment options.
A higher percentage (20% to 40%) salicylic acid treatment breaks down layers of the skin and, with regular application, you should be able to use an exfoliating tool to scrub out and/or tweezers to pull out the root of the wart after a few weeks.
Believe it or not, duct tape also can remove layers of plantar warts. You should be able to scrub out or pull out your plantar wart with tweezers after wearing duct tape on the affected area for several weeks.
Similarly, the acetic acid and malic acid in apple cider vinegar can wear down your plantar wart.
If self-treatment doesn't work, or if the wart is painful, a podiatrist may use one of the following plantar wart medical procedure options to treat your plantar wart.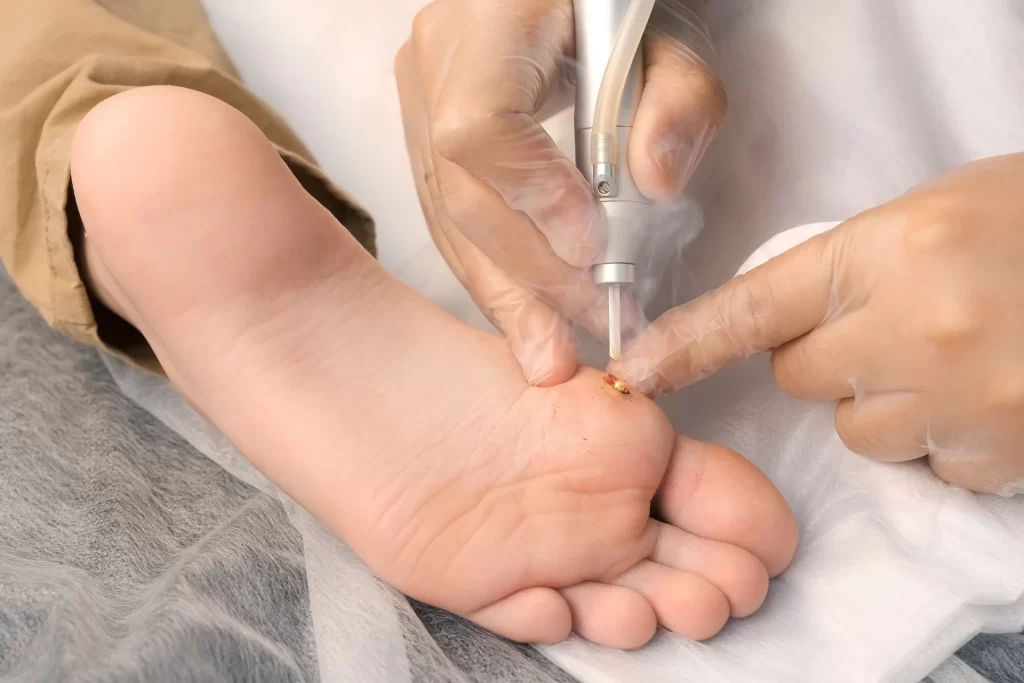 Cantharidin topical medicine: This cuts off the blood supply to the wart, killing it. The wart is then removed the following week.
Cyrotherapy: Your podiatrist will apply extreme cold (argon gas or liquid nitrogen) to freeze and destroy the plantar wart.
Laser treatment: Your podiatrist will use a laser to heat and destroy the blood vessels in the wart, killing it at its source.
Surgery: If necessary, your podiatrist will apply a local anesthetic and then use a scalpel to cut around the wart and excise it.
Preventive measures can reduce your risk of contracting plantar warts. If you have concerns about warts or other skin issues, please contact us to speak to one of our foot and ankle doctors today.