Morton's neuroma is a common but often overlooked nerve condition that affects the ball of your foot. Also known as an interdigital neuroma, Morton metatarsalgia, plantar neuroma, or interdigital neuritis, Morton's neuroma is the result of the thickening of tissue around the digital nerve that leads to your toes. Depending on the degree of thickening, this condition can cause varying levels of pain – from minor discomfort to excruciating pain – typically between the third and fourth toes.
Is Morton's neuroma a tumor?
Thanks to its name, Morton's neuroma is often mistaken for a tumor. In all other instances, neuromas refer to benign (non-cancerous) tumors that form on nerves throughout the body, as they are growths of extra nerve tissue that surrounds a healthy nerve.
Morton's neuromas, however, are the inflammation and thickening of the existing tissue around the digital plantar nerve – not new growth. As such, Morton's neuromas aren't tumors, and they aren't a symptom or cause of cancer.
10 Signs You May Have Morton's Neuroma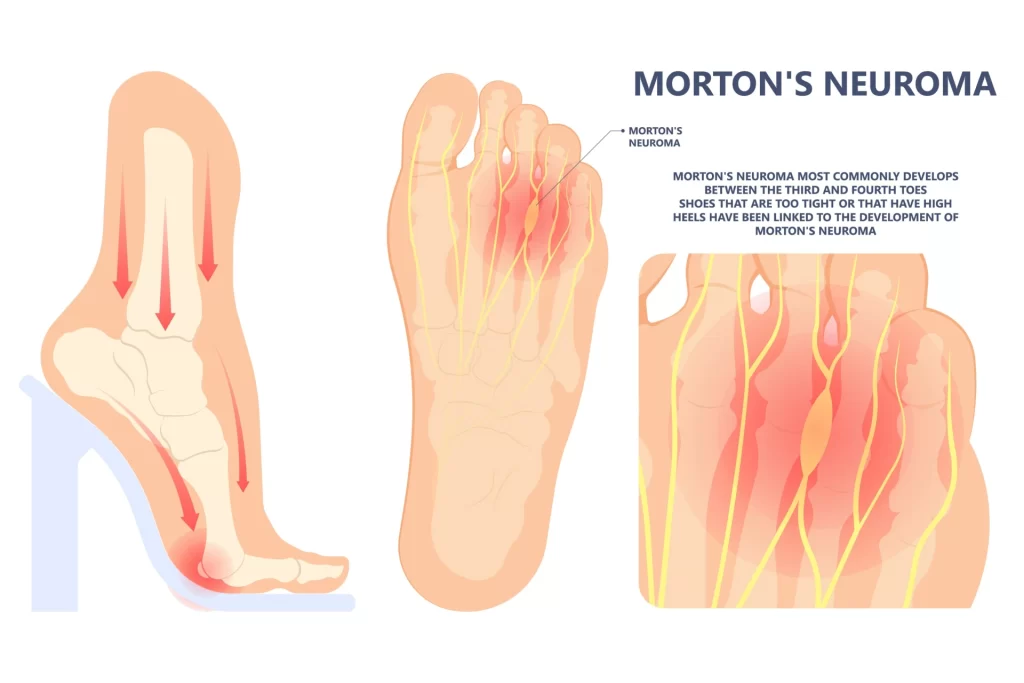 Just as the pain levels from this condition can vary depending on its severity, the signs and symptoms are also varied. The most common symptoms include:
Sharp Pain in Toes
Morton's Neuroma typically presents as a persistent burning or a sharp, shooting pain in the toes, particularly when walking or bearing weight on the affected foot.
Exacerbation with Tight Shoes
Symptoms often worsen when wearing tight, narrow, or high-heeled shoes that compress the toes and pinch the affected nerve.
Noticeable Swelling
Swelling and inflammation between your toes and the affected area.
Numbness or Tingling
You may experience numbness or tingling ("pins and needles" sensation) between your toes and in the ball of your foot.
Feeling Like Something Is Inside Your Shoe
People with Morton's Neuroma often describe the sensation of a pebble or marble being trapped in their shoes.
Pain Between Third and Fourth Toes
Morton's neuroma pain typically presents between the third and fourth toes, though it can occur between the second and third toes, and the associated pain can radiate from the base of the toes and cause nerve pain in the foot, as well.
Pain Is Relieved by Rest
Pain tends to subside when you rest your foot and remove pressure from the affected area and night pain is rare.
Pain When "Pushing Off"
Athletes, such as sprinters, or anyone who engages in activities in which their foot is put into a similar "push-off the starting block" position may experience an increase in pain.
Tenderness
The ball of your foot may become tender and sensitive to touch.
"Murlder's Click"
Some people with Morton's neuroma experience a clicking or popping sensation – called a Murlder's click" – when pressing between the affected toes.
Does Morton's toe cause Morton's neuroma?
While podiatrists and other foot and ankle specialists have not settled on a singular attributable cause for Morton's neuroma, current research indicates that the condition may be the result of compression of the digital plantar nerves that triggers swelling and inflammation of the tissue around the nerves.
Morton's toe – where the second toe is longer than the big toe – has surprisingly nothing to do with Morton's neuroma! While Morton's toe is often incorrectly linked to Morton's neuroma, the two conditions simply bear the same name from two different men – American physician Thomas George Morton (neuroma) and orthopedic surgeon Dudley Joy Morton (toe).
Morton's Neuroma Test & Diagnosis
As with many foot and ankle conditions, there is no Morton's neuroma "test" that provides a diagnosis. Instead, your podiatrist or foot and ankle specialist will perform a physical exam and make a diagnosis based on their observations and your symptoms. There are, however, a few tests and procedures your foot doctor may perform to rule out other common causes of foot pain, such as an X-ray, ultrasound, or an electromyography procedure.
Morton's Neuroma Self-Care & Treatment Options
When it comes to Morton's neuroma self-care, the most important thing is to reduce the compression and inflammation in the affected area. Common treatments include: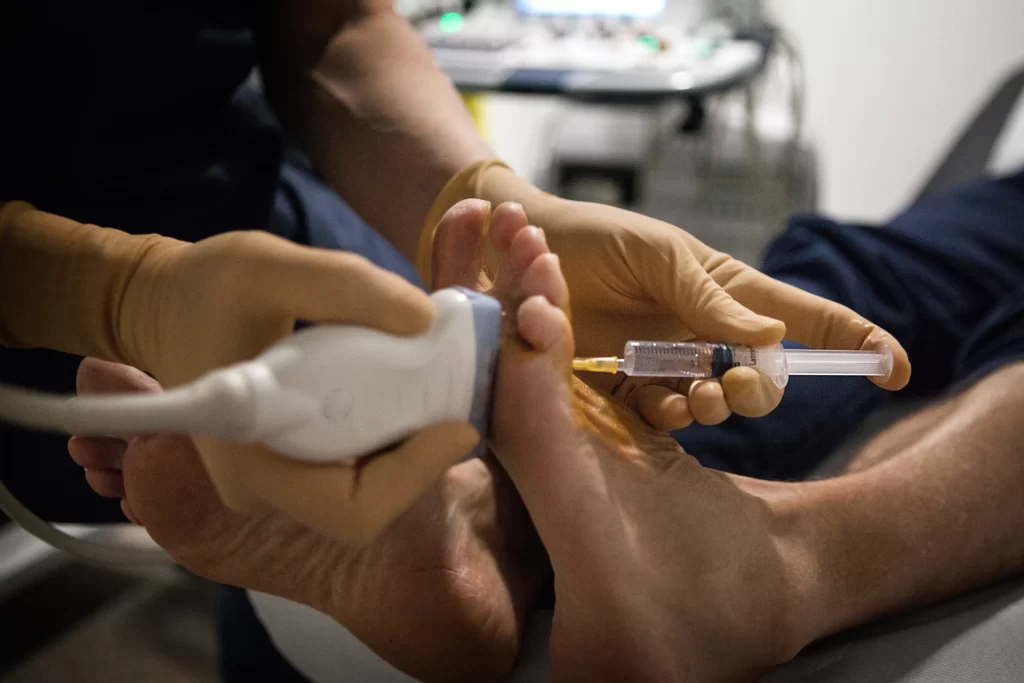 Footwear changes (see below)
Metatarsal pads: over-the-counter shoe pads that help relieve pressure by cushioning the affected forefoot area
NSAIDs: nonsteroidal anti-inflammatory drugs (pain relievers) like Tylenol and ibuprofen can help reduce pain and inflammation
Icing to reduce inflammation
Orthodics: over-the-counter or custom shoe inserts
Corticosteroids: prescription medication or shots that help reduce inflammation
Best Shoes for Morton's Neuroma
Wearing the right footwear is crucial in managing Morton's neuroma, as any shoe that further compresses your digital nerve can exacerbate your condition – and your pain. Opt for shoes with a wide toe box and good arch support to help distribute your weight more evenly and reduce pressure on your forefoot. Avoid heels of any height at all costs and wear athletic shoes with a lot of padding when doing anything active. Depending on the severity of your condition, your podiatrist may recommend custom orthotics.
Morton's Neuroma Exercises
Engaging in specific exercises that strengthen the foot muscles and improve flexibility can be particularly beneficial for individuals with Morton's Neuroma. Toe scrunches, toe curls, and calf stretches are all good exercises that can help with foot nerve pain. Consult a healthcare professional or physical therapist for guidance on appropriate exercises.
Though you can manage or even eliminate the pain associated with this condition, unfortunately, Morton's neuroma will not go away on its own. If the above Morton's neuroma self-care treatment options fail to alleviate the nerve pain in your foot, you should seek treatment from a podiatrist or foot and ankle specialist, as you may require surgery to find lasting relief.