In general, ingrown toenails do not grow out or resolve on their own. Ingrown toenail symptoms and treatment can vary from person to person, toenail to toenail, based on severity and whether or not the toenail is infected or chronically ingrown.
Who gets ingrown toenails?
Ingrown toenails are common in people of all ages, though teenagers and young adults are more prone to develop them thanks to hormonal changes that cause them to sweat more than young children or adults. People with diabetes and geriatric adults are also more susceptible to ingrown toenails, due to specific medical conditions and the natural thickening of nails as you age. All in all, one in five people who see a family or general practitioner for a foot issue is there because of an ingrown toenail.
What does an ingrown toenail look like?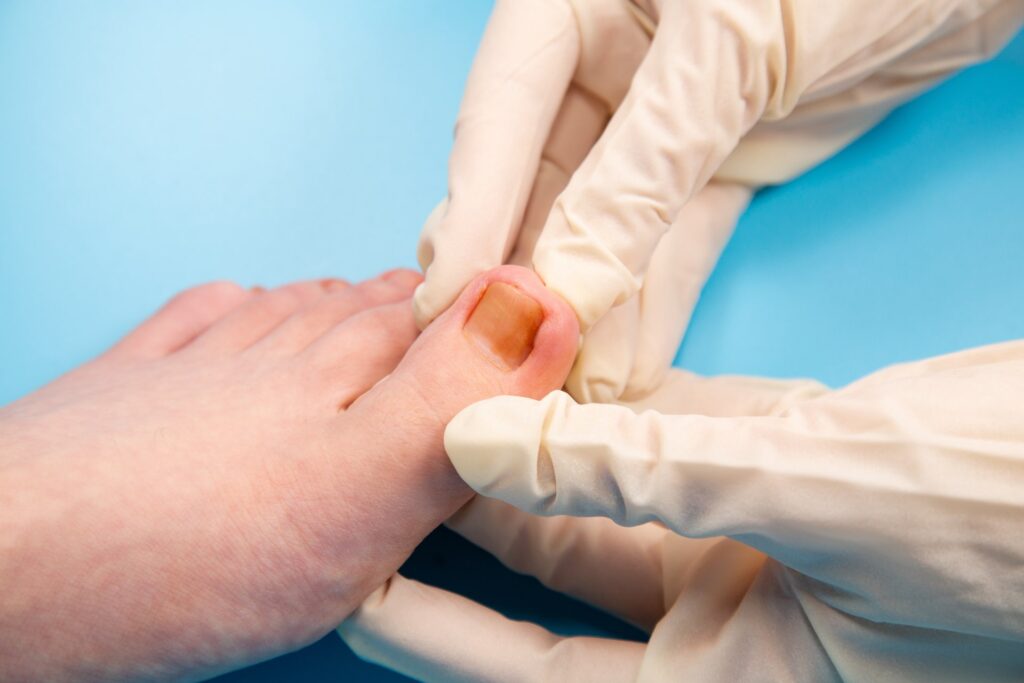 The first step to fixing an ingrown toenail is knowing if it is in fact ingrown or if there is something else going on.
An ingrown toenail occurs when the corner of the toenail – most commonly the nail of the big toe – grows down into the skin on the side of the nail or the skin on one or both sides of the nail grows over the nail itself. This often causes noticeable pain, tenderness, swelling and inflammation, and can lead to infection if left untreated.
Ingrown Toenail Causes
Genetics, medical conditions, shoe preferences and level of foot care can vary greatly from person to person – meaning the cause of an ingrown toenail can be just as varied. The following are all possible contributors to an ingrown toenail:
Toenails cut too short or rounded (encourages growth into the surrounding skin)
Picking, ripping or tearing the corner of the nail
Poorly-fitting shoes
Congenital (the nail is naturally too large for the toe)
Trauma to the toe and/or nail
Poor blood circulation and/or diabetes
Stages of Ingrown Toenails
There are three generally-recognized stages of ingrown toenails.
First Stage (Mild Ingrown Toenail)
A stage 1 ingrown toenail can be very mild and hardly noticeable. In this initial stage, the nail has started to grow into the skin or the skin has started to grow over the nail. There is typically some pain and inflammation, as well as some redness and swelling.
Stage 2 Ingrown Toenail
The second stage is when the inflamed skin tissue (granuloma) has grown even more, causing more inflammation, weeping and pus from the tissue.
Stage 3 Ingrown Toenail
The final stage of an ingrown toenail is when the granuloma has noticeably grown over the nail, causing chronic inflammation, oozing pus, significant pain and possible infection.
Ingrown Toenail Treatment at Home
In many cases, ingrown toenails can be treated at home if they're caught and treated early enough. If you act as soon as you notice the signs and symptoms of an ingrown toenail, the following home treatments can be effective in fixing your toenail without medical intervention.
Soak the entire foot in a warm Epsom salt bath for 15 minutes, three to four times a day.
Avoid socks and keep the foot completely dry when not soaking in a bath.
Wear comfortable shoes – preferably sandals – that provide ample room for the toe and adequate airflow.
Take NSAIDs (non-steroidal anti-inflammatory drugs) such as ibuprofen or acetaminophen for pain and swelling.
If you don't see any improvement in two to three days, if your condition worsens or if you see signs of infection, you should see a doctor for treatment.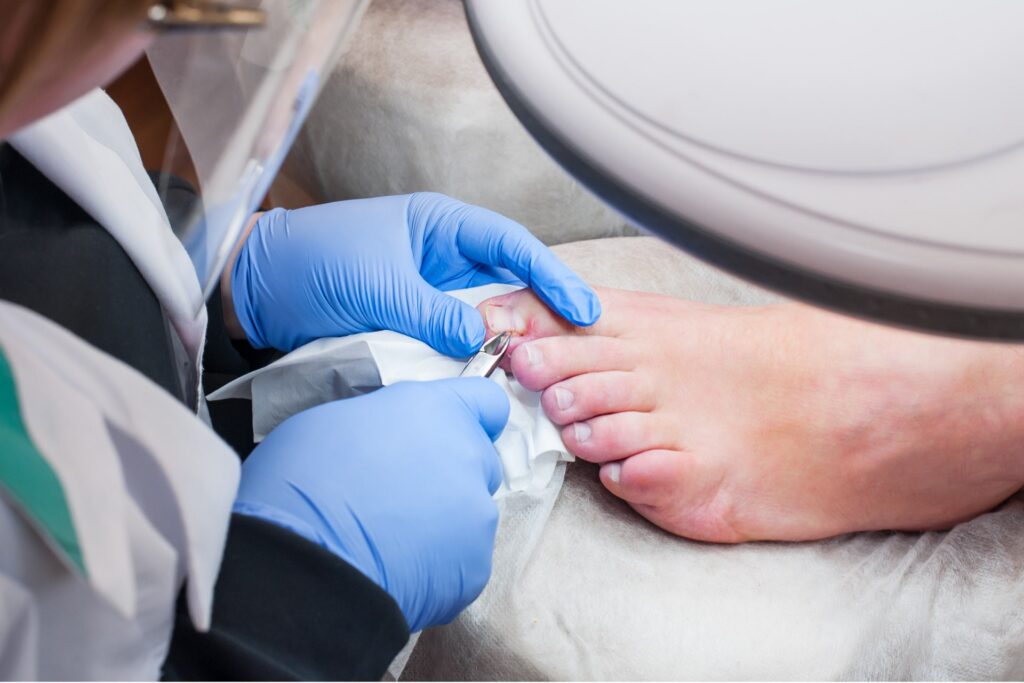 The Dental Floss Ingrown Toenail Method
Believe it or not, podiatrists recommend using dental floss on a first stage mild ingrown toenail. Waxed dental floss is a great at-home ingrown toenail tool, as you can gently slide it between the ingrown nail and the affected skin and use it to lift the edge of the ingrown toenail from its embedded position. Once the ingrown nail is lifted, waxed dental floss can also be used as a cushion to separate the nail and skin.
Worst Ingrown Toenail Mistakes
First and foremost, if you have an infected ingrown toenail, you should see a podiatrist for proper diagnosis and treatment. While some over-the-counter medications can help with minor infections, many infected ingrown toenails require prescription medication. This is particularly important for anyone with underlining medical conditions, such as diabetes or immune disorders.
Outside of infection, there are other common misconceptions about ingrown toenail treatment.
Letting It "Grow Out"
Many people believe that an ingrown toenail will fix itself if you just let the nail grow out. While this may occur with very mild stage 1 ingrown toenails, most ingrown toenails require home treatment or doctor's intervention.
Ingrown Toenail Tool / Ingrown Toenail Corrector
If you're looking to treat an ingrown toenail at home, you're likely to search for an ingrown toenail tool kit online. While there are thousands of search results and products that claim to be ingrown toenail treatment kits, it's best to leave any sort of toe surgery to the professionals. If your ingrown toenail has progressed enough that the above home treatments haven't worked, it's time to see a podiatrist for treatment.
Finding an Ingrown Toenail Doctor
If home remedies have not worked, your ingrown toenail is a stage 2 or 3, or if you have a recurring ingrown toenail, you should see a foot specialist. While searching online for "ingrown toenail removal near me" might be your first inclination, you're better off looking for a trusted local podiatrist who is covered under your health insurance plan.