If you've ever suffered from gout, you know firsthand that the condition can flare up without warning and that an acute attack can be downright debilitating. Often associated with an extremely painful and swollen big toe, gout can severely impact your day-to-day activities and overall quality of life. And while it is commonly associated with autoimmune disorders such as lupus and rheumatoid arthritis, gout is not an autoimmune disorder or even a symptom of one.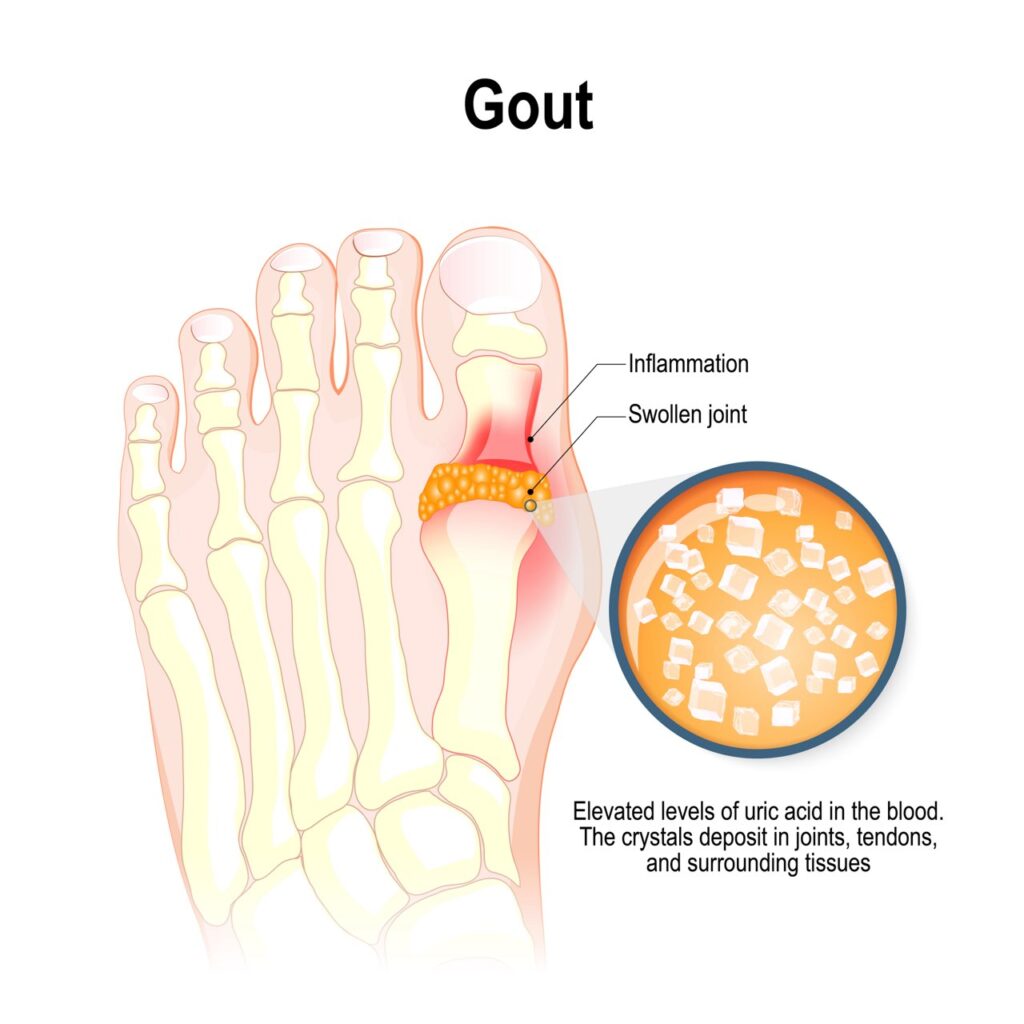 What is gout?
Gout is a type of inflammatory arthritis that is caused by an accumulation of uric acid in the blood, known as hyperuricemia. Uric acid is a natural waste product that forms when the body breaks down purines, which are found in certain foods (such as red meat, liver, anchovies, trout and tuna) and alcoholic beverages; purines are also naturally produced by the body.
In healthy adults, the kidneys filter out excess uric acid and expel the waste product through urination. However, when the body produces too much uric acid or fails to eliminate it efficiently, it can lead to the formation of sharp, needle-like crystals in joints and tissues throughout the body. This buildup of uric acid crystals is what triggers a gout attack.
How long does gout last and what are the symptoms of a gout flare-up?
Gout is a chronic condition that is only symptomatic when the buildup of uric acid crystals causes an attack or "flare." The initial intense joint pain caused by gout is typically severe for four to 12 hours. After the acute pain subsides, the lingering pain, discomfort and inflammation can last anywhere between a few days and a few weeks. Unfortunately, gout tends to worsen over time and flare-ups tend to last longer and attack more joints as the chronic condition progresses.
As mentioned above, the primary symptom of gout is acute and severe joint pain that most commonly affects the big toe. This pain often strikes suddenly, typically at night, and can be accompanied by the following symptoms:
Swelling and inflammation in the affected joint
Redness and tenderness (even to a light touch) around the joint
Stiffness and limited range of motion in the joint
Warmth around the joint or a feeling as if the joint is "on fire"
Does gout only affect the big toe?
Gout most frequently affects the big toe in one or both feet, however, a flare-up can occur in any joint in the body. Many people experience gout in their ankle joints, gout in the knee joints and flare-ups of gout in hands and finger joints. Instances of gout in wrist joints and gout on top of the foot are also common.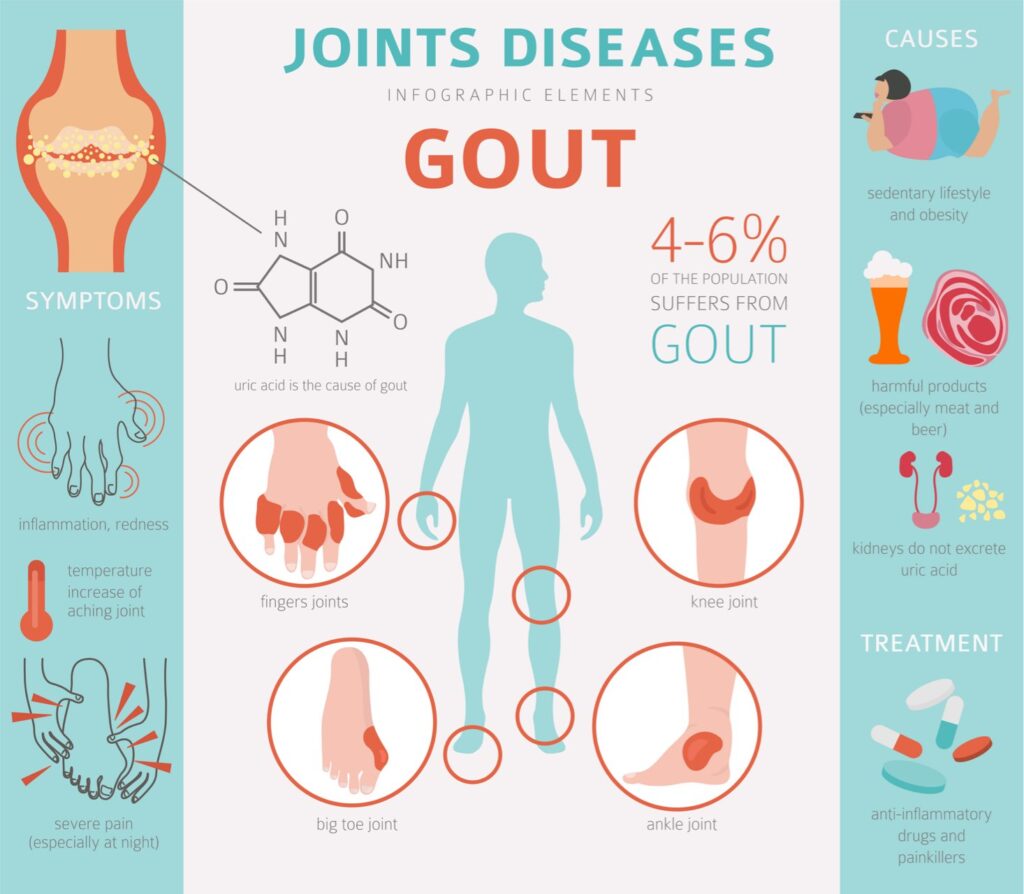 Can stress cause gout?
While stress itself hasn't been shown to cause gout, high blood pressure (which can be caused by stress) is one medical condition that can contribute to the development of gout. Kidney disease, obesity, congestive heart failure, blood cancer and diabetes also increase the risk of gout in adults.
Dietary choices, including eating a lot of animal proteins and drinking alcohol regularly, can increase the likelihood of gout in both men and women. And while gout is caused by hyperuricemia, many people with this condition never experience a gout attack.
Is gout hereditary?
A family history of gout can increase the likelihood of developing the condition. If you have a biological parent or grandparent with gout, you are more likely to develop the condition than someone without a family history of gout. Additionally, people assigned female at birth (AFAB) typically don't have their first gout flare-up until after menopause and people assigned male at birth (AMAB) are three times more likely to develop gout than AFABs.
Stages of Gout
Gout typically progresses through the following four stages.
Asymptomatic Hyperuricemia
In this initial stage, your uric acid levels are elevated but you show no signs or symptoms of gout.
Acute Gout (Gouty Arthritis)
This stage is characterized by sudden and intense gout attacks, with the whole range of symptoms mentioned above.
Interval or Inter-critical Gout
In this stage of gout, you are free of symptoms between gout attacks.
Chronic Tophaceous Gout
If left untreated or poorly managed, gout can progress to this final stage, where urate crystals form visible lumps under the skin (tophi) and can cause joint damage and deformities.
Natural Remedies for Gout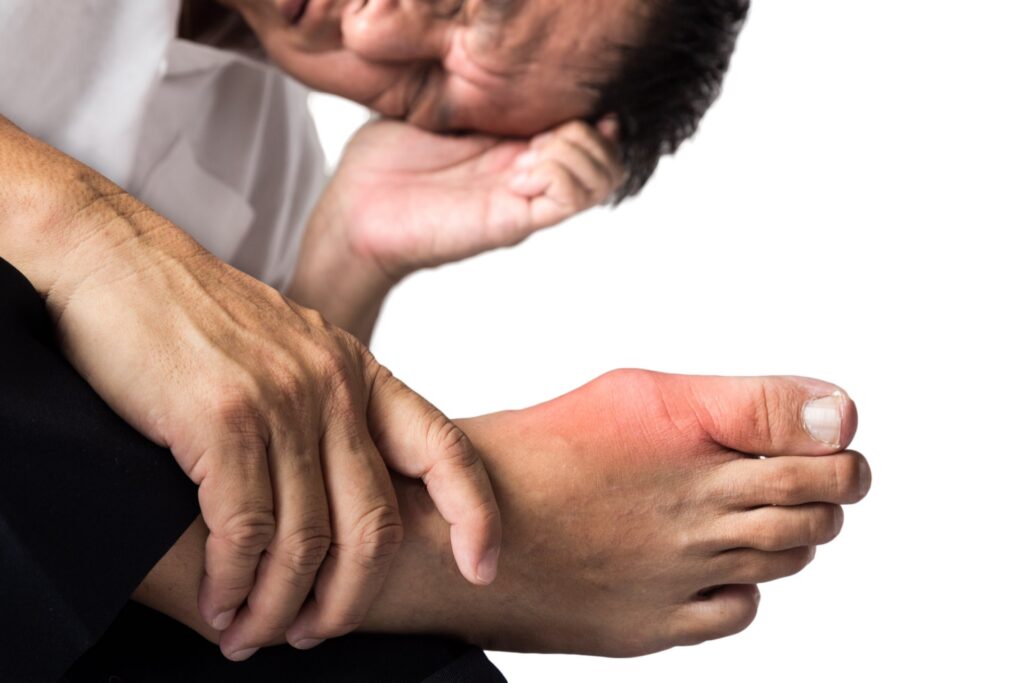 While medical intervention is essential to treating gout, there are several home treatments and natural remedies for gout that can help manage symptoms and prevent future attacks:
Hydration – drinking plenty of water can help flush out uric acid from the body.
Ice – applying ice packs to the affected joint can reduce swelling and provide pain relief.
Elevation – elevating the joint can help reduce inflammation.
Dietary Changes – limiting foods high in purines and opting for a balanced diet can help control uric acid levels.
Exercise – maintaining a healthy weight can reduce the risk of gout attacks.
Doctor-Prescribed Treatments for Gout
When gout becomes severe or chronic, seeking medical treatment from a specialist is crucial. Unfortunately, there is no 10-minute gout cure or immediate gout pain relief treatment. A healthcare professional may recommend the following to help manage gout pain and symptoms.
Nonsteroidal Anti-Inflammatory Drugs (NSAIDs) – these medications can provide pain relief and reduce inflammation during acute gout attacks.
Colchicine – colchicine is another anti-inflammatory medication used to treat gout attacks.
Corticosteroids – corticosteroids may be prescribed to reduce inflammation in the affected joint.
Xanthine Oxidase Inhibitors – these drugs, such as allopurinol and febuxostat, lower uric acid levels by inhibiting the enzyme responsible for its production.
Probenecid – probenecid helps the kidneys excrete uric acid more efficiently.
Pegloticase – this medication is used for severe or refractory gout and breaks down uric acid in the blood.
Understanding gout's symptoms, causes, stages and treatment options can empower you to manage this condition effectively. If you have been diagnosed with gout, making lifestyle changes and adhering to medical advice can help reduce the frequency and intensity of gout attacks. Gout is a chronic condition and it's essential to work closely with a medical professional to devise a treatment plan based on your individual needs and medical history to keep the condition in check and your flare-ups at a minimum.