Bunions are a painful foot condition that affects up to one in three Americans and – despite the perception that only old ladies get bunions – they can develop in everyone from newborns to teenagers to middle-aged and senior people of all genders.
What is a bunion?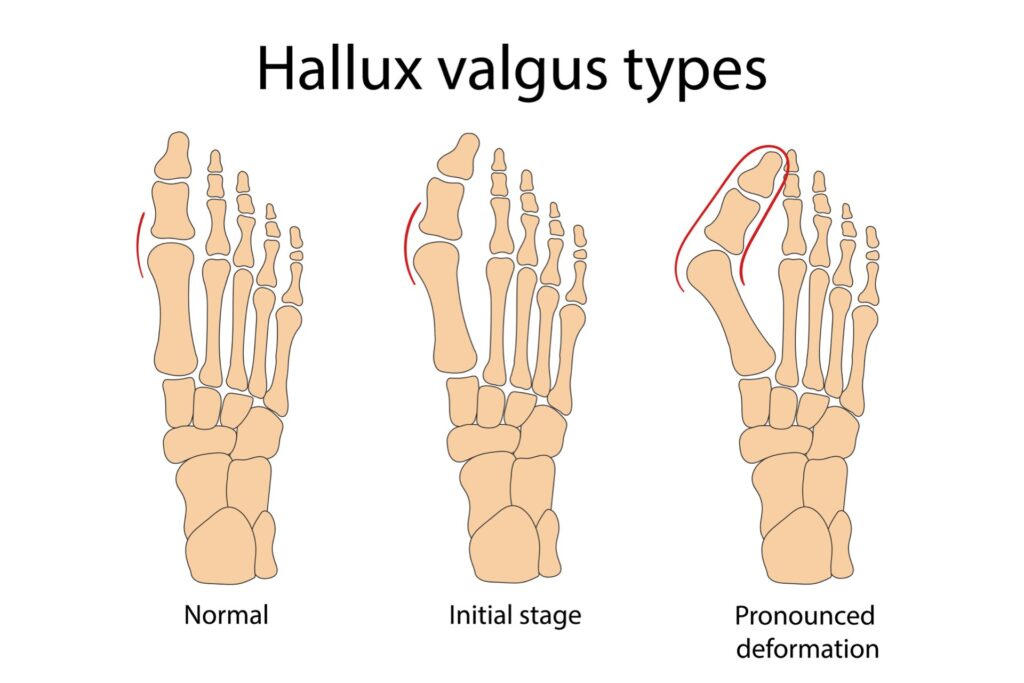 A bunion is a common foot condition that can cause discomfort and disfigurement and may affect basic mobility. A bunion typically appears as a painful, bony bump on the inside of the foot at the base of the big toe, which causes the toe to deviate from its natural position and bend towards the smaller toes (a condition called hallux valgus).
The big toe is made up of two joints, the metatarsophalangeal joint (MTP) and an interphalangeal joint (IPJ). Bunions form at the MTP joint, where the foot's first metatarsal (long bone) meets the first toe bone (phalanx). When the metatarsal bone drifts towards the second toe, the MTP joint is strained causing inflammation and enlargement of the joint and the telltale protrusion (or bump) on the inside of the big toe.
A pinky toe bunion, called a tailor's bunion or a bunionette, is similar to a regular bunion in symptoms and causes but occurs on the outside of the foot at the base of the little toe.
Are bunions hereditary?
While 70% of people who develop bunions have a family history of bunions, environmental factors also play a big role in their development. Bunions are more prevalent among women, with studies suggesting that up to 55% of women may develop them at some point in their lives; however, men can also be affected. Bunions are often hereditary and can run in families, indicating a genetic predisposition. In fact, some babies are born with bunions – a condition called congenital hallux valgus.
What causes bunions?
The primary cause of bunions is an abnormal foot structure that places excessive pressure on the joint at the base of the big toe. Over time, this pressure can cause the joint to shift out of alignment, leading to the formation of a bunion. Both hereditary and environmental factors can contribute to this condition.
Inherited Foot Type for Bunions
Some foot types – such as flat feet and feet with low arches – are more prone to developing bunions due to an inherited structural imbalance.
Footwear
While podiatrists and other experts disagree on whether ill-fitting or high-heeled shoes cause bunions, most agree that wearing ill-fitting shoes, particularly those with narrow toe boxes or high heels, can force the toes into an unnatural position and increase the risk of bunions.
Foot Abnormalities
Conditions like flat feet (mentioned above), foot arthritis, and inflammatory joint diseases like rheumatoid arthritis (RA) can also contribute to the development of bunions.
What does bunion pain feel like?
Bunion symptoms and their severity can vary from person to person. Bunion pain in particular can fluctuate between a constant throbbing at the MTP joint on the big toe, pain that extends to the ball of the foot, and shooting pain at the site of the bunion due to swelling that compresses a nerve in the foot.
Common Bunion Symptoms
A visible bump at the base of the big toe
Pain or tenderness around the affected joint
Swelling and redness in the area
Limited movement of the big toe
Corns or calluses form where the first and second toes overlap
Development of arthritis in the joint
Non-Surgical Treatments: Bunion Correctors & How to Shrink Bunions Naturally
In the early stages of bunion development, conservative, non-surgical approaches can alleviate discomfort and slow down the progression of the condition. Some non-surgical treatment options include the following.
Comfortable Shoes
Wearing comfortable shoes with a wide toe box and low heels can help reduce pressure on the toes and help slow the progression of a bunion. Likewise, it's ideal to go barefoot as much as possible when you experience the early signs of bunions. This is because going barefoot can help strengthen toe joints, which is important to overall foot health.
Bunion Correctors & Pads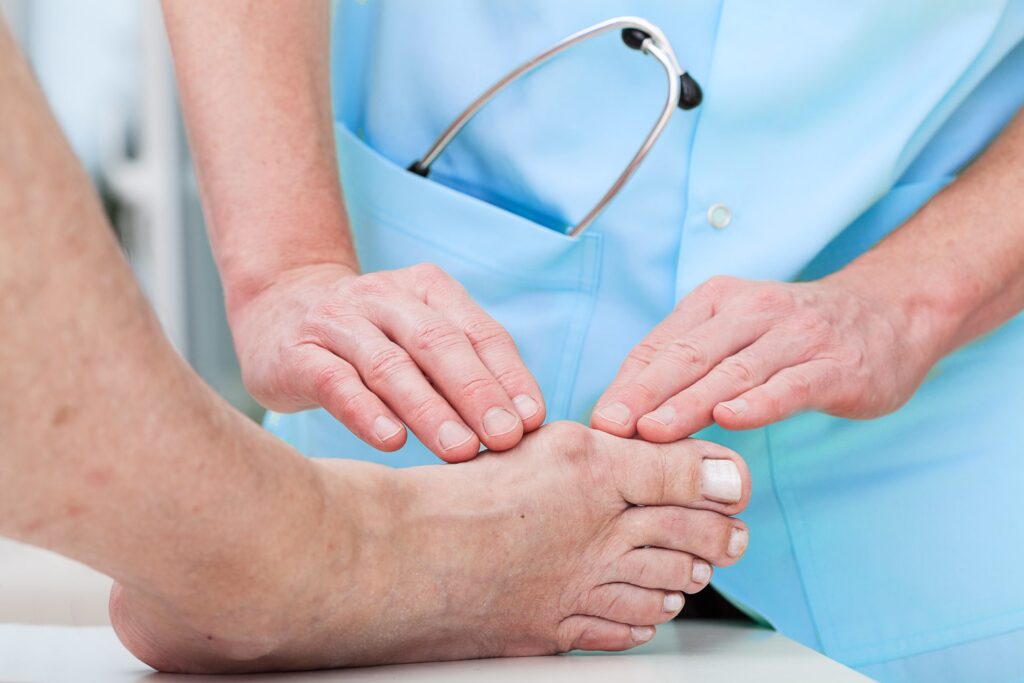 Though they're called "bunion correctors," these over-the-counter gel or fabric braces are meant to relieve pain associated with the big toe's misalignment and help slow a bunion's progression. Likewise, bunion pads are helpful in protecting the first and second toes from developing corns or calluses by providing protective padding or cushioning over the bunion to alleviate pain and prevent friction.
Bunion Splints & Orthotic Devices
Custom-made shoe inserts (orthotics) can help distribute pressure evenly across the foot, providing support and reducing discomfort. Custom bunion splints can also help realign the toes and relieve pressure on the bunion.
Medication
Over-the-counter pain relievers, such as nonsteroidal anti-inflammatory drugs (NSAIDs), may help reduce pain and inflammation.
Bunion Surgery
If non-surgical treatments fail to provide relief, or if the bunion progresses to a severe stage causing significant pain and deformity, surgical intervention may be necessary. Surgical procedures aim to realign the bones, repair tendons and ligaments, remove the bony bump, and correct any associated deformities. The specific surgical technique depends on the severity of the bunion and individual factors, so consulting with a podiatrist or orthopedic foot and ankle surgeon is essential to determine the most appropriate surgical approach.
If you're suffering from one or more bunions and would like to see how a podiatrist can help relieve your symptoms, give us a call today. Our podiatrists are happy to answer any questions you may have and help you get back on your feet, pain-free.