The number of foot and ankle surgeries performed annually is steadily increasing in the United States. Though the underlying causes for this increase are unknown, the sheer complexity of the foot – 28 bones, 33 joints, 112 ligaments, and 34 muscles – lends itself to a multitude of injuries that could require surgery. While there are many different types of foot surgeries, the following procedures are some of the most common for Americans of all ages.
Bunion Surgery
If you're experiencing significant pain from a bunion that limits your everyday activities, you have chronic big toe swelling and inflammation, and/or your big toe is at risk of crossing over your smaller toes due to a bunion, your podiatrist might recommend bunion surgery. A type of metatarsal surgery (surgery performed on the metatarsal bones, or long bones in the feet that connect to the toe bones), a successful bunion surgery realigns the metatarsophalangeal (MTP) joint at the base of the big toe, corrects any deformity, and provides long-term pain relief after recovery.
As bunions vary in size, shape, and severity, there are a number of different surgical procedures that may be performed during a general "bunion surgery." These surgical procedures include osteotomy, arthrodesis, exostectomy, resection arthroplasty, and repairing ligaments and tendons around the big toe.
Hammertoe Surgery
A hammertoe is an abnormal bend in the middle joint of the second, third, or fourth toe caused by an imbalance in the muscles, ligaments, and/or tendons that usually work together to hold the toe straight. If caught early, this deformity may be corrected with a change in footwear or inserts. If left untreated – or if the hammertoe was caused by trauma, disease, or unbalanced foot structure – hammertoe deformities might require corrective surgery.
Hammertoe surgery is typically only recommended if the toe (or toes) in question is causing pain that hasn't been resolved by more conservative treatment options. Like bunion surgery, hammertoe surgery involves one or more surgical procedures, depending on the case and level of deformity. A fusion is the most common hammertoe surgery procedure; however, tendon transfers and joint resections are also common.
Plantar Fasciitis Foot Surgery
Plantar fasciitis is a common cause of heel pain and though its cause isn't well understood, it is triggered by inflammation of the thick band of tissue that runs along the bottom of the foot, connecting the toes to the heel bone. While paradoxically common in runners and people who are overweight, plantar fasciitis can affect anyone. Often worse immediately after waking, the stabbing plantar fasciitis pain along the bottom and at the heel of the foot can also strike after standing for long periods or after getting up from a seated position.
There are two types of foot surgery for plantar fasciitis: gastrocnemius recession surgery and plantar fascia release surgery. Gastrocnemius recession surgery involves lengthening one of the two muscles in the calf, which improves range of motion in the ankle, enables foot flexion, and helps the plantar fascia to stretch and relax. Plantar fascia release surgery is typically recommended for people with normal range of motion but plantar fascia pain that does not abate with nonsurgical treatments and therapies. During this procedure, a podiatrist or orthopedic foot and ankle surgeon partially cuts the fascia ligament to release tension in the band of tissue. The aim of both surgical procedures is to ultimately allow the fascia to relax enough to resolve the pain.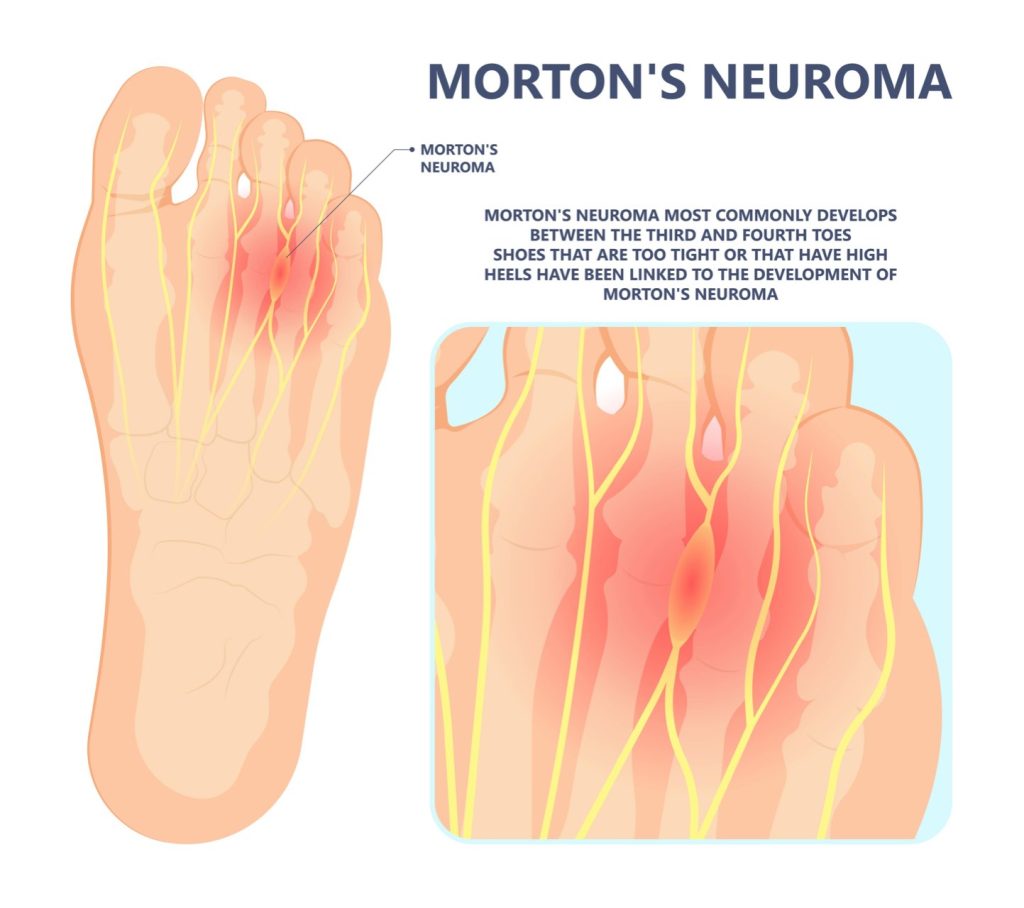 Morton's Neuroma Surgery
Usually found between the second, third, and fourth metatarsal bones of the foot, Morton's neuroma is the thickening or inflammation of the nerves between these bones. This thickening and inflammation compressing the nerves around these bones can cause sharp pain between the toes, numbness, tingling, and pain and swelling under the balls of the feet.
Morton's neuroma surgery involves a neurectomy – the removal of compressed nerves in the ball of the foot. A podiatrist or orthopedic surgeon does this by making a small incision at the top of the foot to access the nerves, then removing the affected nerve(s) and releasing any tight ligaments affecting the area. Unlike other foot surgeries, Morton's neuroma surgery has a relatively quick recovery time of about two to four weeks.
Flat Foot Surgery
If you suffer from the effects of flat feet – pain when running or walking, ankle swelling, damaged nerves causing numbness and tingling – your podiatrist may recommend flat foot reconstruction to alleviate your pain and help prevent future foot arthritis. Flat foot surgery typically involves both removing and replacing the damaged tendon in the instep with another tendon and calcaneal osteotomy.
Foot Surgery Recovery Time
While foot surgery is not typically considered major surgery, podiatrists with specialty surgical training and orthopedic foot and ankle surgeons who perform these procedures stress the importance of strictly following postoperative instructions to avoid problems or complications caused by bearing weight too soon.
In general, foot surgery recovery takes anywhere from three to six months for the pain to subside and up to a year to regain full function and mobility. Recovery time is entirely dependent on your condition, procedure, and whether or not you require physical therapy.